See Something
Say Something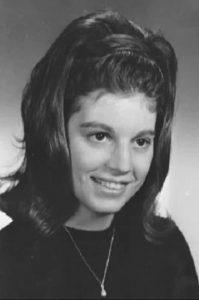 We all think that there is not much we can do to change something horrific that has happened. Even if we question our memories about what we saw or who we spoke to we doubt if it has any impact on a case or if saying hello. But it can. It can help timestamp events that can finally be pieced together.  You can make a difference!
This is the story of Roseanne Spina a beautiful 17-year-old high school student who was murdered in 1967. It's possible that her killer may now be in their seventies or even older but time does not erase or forgive this heinous crime. Those who love Rosanne deserve closure as they still wonder if the murderer walks the streets.
Roseanne was a typical teenager who lied to her mother about her intended whereabouts.  She had told her mother that she was headed to her friend's house but instead went to Rinaldi's bar on Burnet Ave.  Her 5'3 and 131-pound body was discovered on September 25, 1967, at a vacant gravel lot of 700 block of Canal St in Syracuse amongst tall weeds near the railroad tracks.  She had been raped and is presumed to have been strangled by her own slip. The last time anyone remembers seeing her was two days earlier when she was walking from Rinaldi's bar in the 300 block of Burnet Ave at 3 am. She had been at the bar with friends.  One of her friends said that she had been talking to a few young men on the sidewalk but that she did not leave with them.
Did you know Rosanne? Or were you at the bar that night? Have you heard rumors? Seen something by the railroad tracks? Is there any information you can provide at all? Even anonymously.  Roseanne deserves justice.  Anyone with information should contact the detectives at 315-442-5234 or mailto:coldcasesquad@syracusepolice.org
The Syracuse Police Department has a long cold case list.
Visit their website https://syr.gov/Departments/Police/Public-Information/Cold-Cases